1. Kimball Farm
400 Littleton Road, Westford
978-486-3891 | MAP
Ice cream, miniature golf, bumper boats, volleyball, golf, fried fish dinners, and a country store are all offered at this incredibly enjoyable summer location in Westford. Just bring your appetite and your smile.
2. One Stop Fun
49 Powers Road, Westford
(888) 375-4489
Hours vary
Check out the brightest, happiest location in Westford at One Stop Fun for children. Activities include ninja, gymnastics, swimming lessons, summer camps, vacation camps; birthday parties, an indoor playground, a rock climbing wall and field trips.
parties, an indoor playground, a rock climbing wall and field trips.
  3. Nashua Paddlers
Nashobapaddlers.com
398 West Main St. Groton, MA
Opens 9:30 a.m. Take a sultry ride down the Nashua River and find a piece of heaven along the way. Rentals of kayaks, canoes and paddle boards are available. All rentals come with lifesaving jackets and paddles.
4. Filho's Cucina
235 Main St. Groton, MA 01450
(978) 448-5664
After a rough morning of sunning and tanning, swimming lessons, and mini golf, what's for lunch? May we suggest stopping by Filho's Cucina for a delicious dish of pasta, made authentically in the Italian tradition. Seating is limited, so whether you're eating lunch or dinner, arrive an hour early to get a table. Bring your own bottle of wine or buy one from the next door liquor store.
5. J.V. Fletcher Library
50 Main St.,Westford, MA
westfordcat.org/newsletter
978-692-5555
Sometimes the rain must fall. But no worries, there's plenty of things to do inside the J.V. Fletcher Library. There are summer reading groups, chess games, and activities aimed at both teens and tweens. Check the website for details.
6. Acton Bowladrome and Cafe
257 Main Street, Acton, MA
https://actonbowl.com/
978-263-7638
Sometimes we all need a break from the heat. Why not go bowling? Here's a chance to work on your hand-to-eye coordination, while enjoying some friendly competition. You can even sneak in a game of pinball.
7. Forge Pond
Off Pleasant St. (Rt. 225)
Westford, MA 01886
https://westfordrec.com/
978-692-5532
There may be an admission fee.
Launch your boat at the put-in, swim to your heart's content, enjoy the breeze in the shade, or explore the new playground. This pond is among the town's most beautiful properties. Check with the recreation department about swimming lessons and other programs. There may be an admission fee.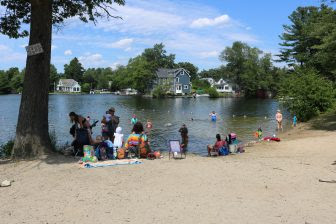 8. Edwards Beach
Maple Road to Birch Road
Westford, MA 01886
https://westfordrec.com/i
978-692-5532
Check the website for hours and programs.
There may be an admission fee.
Explore Ronan's playground or take a swim and rest in the shade. The town-owned Edwards Beach is a friendly place. Bring a volleyball, frisbee or nerf ball and play until it's time to go home for dinner.
9. Long Lake 
Lake View Drive, Littleton
Littleton Parks, Recreation and Education
Boat Rentals and Playground
littletonma.org/parks-recreation                                     33 Shattuck Road, 978-540-2490
Littleton's exquisitely beautiful lake off Town Road is available to those with paid membership. However, anyone with the proper qualifications can rent a kayak, canoe or paddle board. Prices are:  $10 for 30 Minutes / $20 for an Hour … Head Snack bar and restrooms are available for members. Membership is affordable and worth it!
10. Discovery Museum

177 Main Street, Acton, MA
http://discoveryacton.orgdiscoveryacton.org/
978-264-4200
Let your imagination run wild at the indoor Discovery Museum and the outdoor Discovery Woods. Open year-round for hands-on activities and exploration of nature.
Check the website for ticket availability or ask if there are free passes available at the library.
For more information about any of these suggestions– including locations, phone numbers and web addresses, visit WestfordCAT's YouTube Channel at youtube.com/westford